Profile.dat is basically a save game data file of Dream League Soccer 2016 to 2019
Dream League Soccer 2019, widely known as DLS 19, is finally here. Dream League Soccer 2020 is the best offline Android Soccer game.DLS 19 is also available on IOS.
Today we are going to talk About Dream League Soccer 2019 Profile.dat / Save Game Data.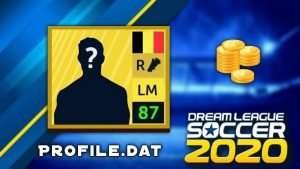 DLS 16-19 All Team Profile.dat / Save Data Collection with direct download Link.
What is Profile.dat?
Dream League Soccer 2019 is an offline game. So as offline games, All the game data is stored on the handset. All the Team Data of DLS 19 is stored in a secured database name profile.dat
Profile.dat is the store house of all DLS 19 Save Game Data
Each & Every team data,club player information is stored safely here.
Why we are talking about Save Game Data / Profile.dat ?
We can change our team,share our team with others using this save game data / profile.dat
If we don't have good players we can use a profile.dat of others to have a very strong team. Besides using profile.dat we can make a full squad of a club/team. for example Real Madrid, Fc Barcelona, Liverpool, Brazil, Argentina & so on.
Where to find profile.dat?
Profile.dat is located into the Data folder Under Android in Storage.Here is the full directory
storage/Android/data/com.firsttouchgames.dls3/files
in this folder you can get your profile.dat. By replacing this file you can change your Team.
why Profile.dat?
Because profile.dat is a save game data. It's the solution to the unlimited coin. It's the alternative of Hacking. If you use this, you do not need to hack the game. You can play safely using this and can build your ultimate Team. There is no chance of getting Banned.
How to set new profile.dat?
Tutorial(if file name is profile.dat):
Download Profile.dat
Make sure the downloaded file name is profile.dat
If not rename it to profile.dat
go to storage/android/data/com.firsttouchgames.dls3
Delete your existing profile.dat from here
now move your downloaded profile.dat here
Now Launch the game & enjoy it.
Tutorial(if file is in ZIP format):
Download the Team Data.Zip
Unzip it using Zarchiver
Open the Unzipped folder
Copy the folder 'com.firsttouchgames.dls3'
Paste it in "Android/data" folder
Now open the game & Enjoy.
Video Tutorial:
Where to download Profile.dat?
No need to worry.we are here to assist you. I am giving you the Save Game data of Every possible Team. You can Download them From Below.
Special Team:
32 Messi Profile.dat: Google Drive
32 Zlatan Ibrahimovic Profile.dat : G Drive
32 Neymar Profile.dat : Google Drive
Missing Player Profile.dat ( Zlatan,Tevez,Pirlo,Iniesta,Klose & Many More) : G Drive
Vip Tallest / Vip Player Team: Google Drive
Tallest Player Team: Google Drive
All Player 204CM: Google Drive
Booth Footed: Google Drive
Online Tier One: Google Drive
Muslim Player Fc: Google Drive
Play Against Own Team: Google Drive
Elite Divission: Google Drive
No Hair Player Google Drive
All Player 166CM/Short Player: Google Drive
Only Coin:
All Club:
Fc Barcelona Profile.dat : Google Drive
Bayern Munich Profile.dat : G Drive
Kerala Blasters : Google Drive
Real Madrid Team profile.dat:- Download
Atletico Madrid Team profile.dat:- Download
Italian Club:-
Juventus Team profile.dat:- Downlaod
Inter Milan Team profile.dat:- Download
Ac Milan Team profile.dat:- Download
SSC Napoli Team profile.dat:- Download
English Premier League Club:-
Liverpool Team profile.dat:- Download
Manchester City Team profile.dat:- Download
Manchester United Team profile.dat:- Download
Chelsea FC Team profile.dat:- Download
Arsenal Team profile.dat:- Download
Tottenham Hotspour Team profile.dat:- Download
French League:-

Paris Saint Germain (PSG) Team profile.dat:- Download
Bundesliga:-

Bayern Munich Team profile.dat:- Download
Borussia Dortmund Team profile.dat:- Download
MLS:-
LA Galaxy Team profile.dat:- Download
Other Club:-

AFC Ajax Team profile.dat:- Download
National Team:
Croatia Team profile.dat:- Download
Argentina: GDrive
Brazil Profile.dat : Google Drive
England Team profile.dat:- Download
Italy Team profile.dat:- Download
Portugal Team profile.dat:- Download
Spain Team profile.dat:- Download
Albania : G Drive
Australia Profile.dat : Google Drive
Austria Profile.dat : Google Drive
Bangladesh Profile.dat : Google Drive
Belgium Profile.dat : Google Drive
France Profile.dat : Google Drive
Germany Profile.dat : Google Drive